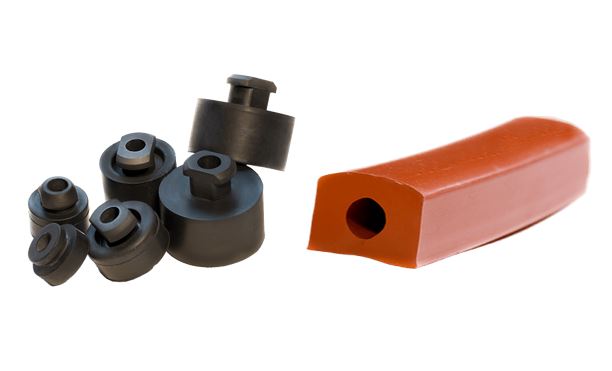 EPDM and Silicone are both popular synthetic rubbers for manufacturing parts, but which one is best for your applications?
It's not easy to pick the perfect material for your parts without knowing what makes one choice better than another. Let's break down the the diffrences between EPDM and silicone so that you can invest in the right material for your need.
The Differences Between EPDM and Silicone
While EPDM and silicone are both synthetic rubbers, they're produced in different ways. EPDM, also knowns as ethylene propylene diene monomer, is derived from the polymerization of ethylene, propylene, and other alpha-olefin comonomers. Silicone is also called polysiloxane and is made after extracting silicon, passing it through hydrocarbons, and mixing it with other chemicals.
When it comes to EPDM vs. silicone rubber, there are a lot of qualities to like for both materials. Both compounds are extremely flexible and can be extruded, die cut, and molded. The challenge is that some have better characteristics for certain situations than others. The following factors can help you determine whether EPDM or Silicone is right for your parts.
Material resistances
Temperature requirements
Physical durability and toughness
Cost-effectiveness
Material resistances
While both EPDM and silicone can be used in many of the same environments, there are some key instances where one may hold up better than the other. One of the most importance distinctions between the two materials is how they differ in terms of exposure to various substances or environmental factors.
EPDM is a very durable material that is built to last in outdoor applications. This particular compound offers excellent resistance to aging and sunlight, making it an appealing option for parts constantly exposed to the ozone, water, and other outdoor elements. EPDM is also adept at handling corrosive environments. However, EPDM struggles when subjected to oil and other solvents. Fuel and other similar substances will cause EPDM to break down and fail.
Silicone also offers excellent resistance to aging and UV rays from sunlight. Silicone seals are resistant to water and repel fluids while also being flame retardants with certain additives. Like EPDM, silicone isn't built to withstand solvents, although it can handle oil a little better. Still, there are other materials like nitrile if oil resistance is a major need.
Temperature requirements
Both EPDM and silicone rubber operate well in low and high temperatures, but silicone has a clear edge when application's get too hot or cold. Silicone is made to withstand extreme temperatures, with an operating temperature range from -150 to 480° Fahrenheit (-100 to 250° C). That range makes it one of the best options when temperature is a major factor.
Although silicone offers greater temperature resistance, EPDM also has solid resistance to heat and cold with a range of -60 to 350° F (-51 to 177° C). EPDM also has the added benefit of being highly resistant to steam, even at prolonged exposure.
Physical durability and toughness
Some materials are built to take a beating. EPDM is definitely one of those materials. This particular compound is a great option for any applications where parts need to resist physical damage thanks to good abrasion resistance and compression set. EPDM also has solid tear resistance as well to pair with a tensile strength of upt to 2,500 PSI.
Silicone rubber isn't quite as durable as EPDM with poor tear strength, meager abrasion resistance, and a tensile range of 200 to 1,500 PSI. However, silicone does provide ample resistance for any parts that need good compression set, such as door seals or other parts that will be flattened over time.
Cost-effectiveness
There are a wide range of applications where multiple materials meet their performance requirements. EPDM and silicone can both be viable synthetic rubbers for your parts, but that doesn't mean they'll cost the same.
EPDM is a popular material thanks to a few key reasons – it's durable, it's versatile, and it's more cost-effective than a lot of other rubber and plastic compounds. EPDM can be manufactured in multiple ways and is designed to enjoy a long lifespan, helping you save on both initial costs and on fewer replacement parts in the future.
Silicone is more of a specialty material than EPDM, and it costs more as a result. Of course, there are plenty of applications where silicone will thrive and EPDM simply won't survive, such as high-temperature applications. Those instances will require a specialty product, and you'll be happy that you made the extra investment when your parts don't fail.
EPDM vs. Silicone: Which is Better?
Simply put, both EPDM and silicone are great options for markets ranging from HVAC units to the food and beverage industry. The key to finding which is better for your applications comes down to your performance requirements and environment. Hopefully the answers above can shed some light on which material makes more sense for your needs.
Of course, it's not always so simple to decide which material is best for your parts. That's why businesses turn to Timco when they need high-quality, custom rubber and plastic parts. Our experts work closely with your business to identify a custom solution based on your performance needs and budget.
Ready to invest in EPDM, silicone, or some rubber or plastic parts? Give us a call at 800-969-6242 or contact us online to talk to one of our experts about the parts you need.