Custom Rubber Tubing for Businesses
Businesses deserve quality tubing made specifically for their applications. Since 1956, Timco has worked with businesses to design and supply them with custom rubber and plastic tubing designed for their exact applications. Contact us today to invest in the best, most cost-effective tubing for your business.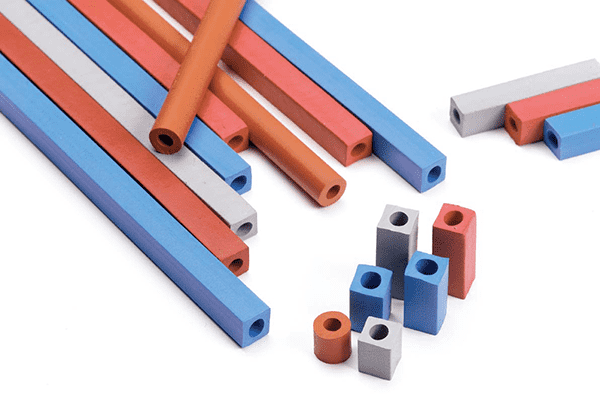 Timco: A Custom Rubber and Plastic Tubing Supplier
There is no one-size-fts-all tubing solution. Different applications can pose different challenges, whether they need soft HVAC tubing, rigid plastic hosing, or some other type of part. We supply businesses with a wide range of custom tubing, including:
Custom plastic tubing and rubber tubing made to last
At Timco, our job is to make sure that your business invests in the right tubing product for your needs. We're more than just a standard soft rubber tubing supplier – we work directly with your business to uncover the best part solution for your performance needs, operating environment, and budget. That process includes identifying materials that can meet and exceed the following performance requirements:
Oil, solvent, and chemical resistance
Abrasion and tear resistance
Aging and weathering capabilities for outdoor tubing
Required temperature ranges
Durometer, tensile strength, compression set, and elongation
Adhesion to metals
Electrical conductivity
Flame retardant
Food safe
Custom plastic extrusions manufactured to your specifications
In addition to helping you identify the right material for your tubing products, we can also ensure your parts are manufactured to perfectly fit your applications. Our extensive network of manufacturers allow us to accommodate a wide range of manufacturing processes, including custom tubing extrusions. These capabilities allow us to modify standard parts or custom-make high-quality tubing with the following features:
Custom rubber and plastic extrusions
Coextrusions with multiple materials
Precision-manufacturing for tight tolerances and highly engineered tubes
Multiple shapes, thicknesses, and profile extrusions
Cut-to-length tubing
Engravings for textured or branded tubing
Clear or custom colors available
Our Rubber and Plastic Tubing Materials
In order to invest in the best, most cost-effective materials for your tubing products, it's important to work with the right supplier. We work with a wide variety of rubber and plastic compounds to manufacture custom products, including pressure switch tubing, condensate drainage hosing, and more.
Of course, not all materials are right for your applications. As a premier rubber and plastic tubing supplier, Timco works closely with your business to analyze their exact needs and recommend the most effective material, even if it requires custom formation. Our selection of plastic and rubber tubing materials includes:
Our Markets
Tubing made for one market isn't going to have the same performance requirements or challenges as another. Our personalized process allows us to cater your tubing products around your application's particular environment and any industry requirements, such as food-safe tubing or flame retardant parts. That level of service has made us a trusted custom tubing supplier for the following industries:
High-Quality Tubing with Value-Added Service
When Timco was founded back in 1956, we strongly believed that businesses deserved both high quality parts and customer service. That belief still holds strong today, which is why we strive to serve as a single-source solution for our partners. That mindset is why Timco has become a trusted plastic and rubber seal supplier for business across North America.
What does it mean to be a single-source solution? Our goal is to do everything we can to provide your business with custom rubber and plastic parts while adding value in ways that extend beyond just part supply. That level of customer support is why we offer the following value-added services to help our customers save time and money:
Subassembly of rubber parts
Kanban replenishment
Kit assembly
Flexible control methods
Our customers also benefit from all the partnerships and investments we've made over the decades. Every strategic connection or development we've made was done to help us better serve our customers. As such, we can offer the following benefits to add value to every order of new tubing products:
In-house stocking program – Customers can use our warehousing space to store their extra parts. Our stocking program and on-time delivery service allows you to streamline your inventory process and save valuable space when you need it.
Part accessibility – Our network helps you get the materials you need for your parts. We work material suppliers around the globe, which grants you greater access to critical material sources than any other plastic and rubber seal supplier in the country.
The lowest possible part cost – When you work with Timco, you have options. That same network of partners allows us to identify the best material sources and manufacturers for you. In turn, you can invest in the most cost-effective solution around the globe to manufacture your seals.
Invest in the right tubing for your business
We can supply your business with the best, most cost-effective rubber and plastic parts for your applications. Call 1-888-754-5136 or complete our online form to request a quote.