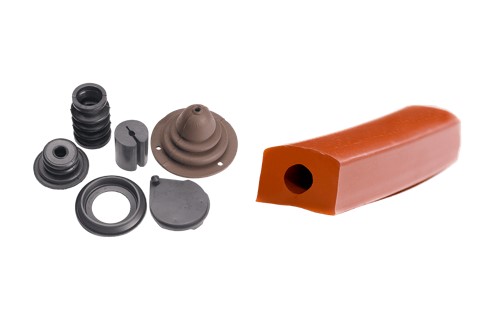 There are plenty of synthetic compounds used to manufacture parts, but which one is right for your parts? Both nitrile and silicone are go-to materials for making seals, O-rings, tubing, and other parts, but there are different scenarios where one is clearly a superior option over the other.
Ready to figure out which rubber is right for your needs? Let's break down nitrile rubber vs silicone to see which is right for your parts.
Silicone vs Nitrile: What's the Difference
Nitrile and silicone are both synthetic rubbers, but each have special characteristics that make them a better choice in certain scenarios than others. Nitrile, also known as Buna-N or butadiene rubber, can withstand contact with difficult substances, while silicone is made to beat the heat. In the battle of Buna N vs silicone, you'll want to consider the following performance criteria.
Temperature range
Resistance to oils and other substances
Weathering
Physical durability
Tensile strength
Temperature range
Both nitrile and silicone are capable of performing in higher temperatures, but the latter material is best suited for extreme temperatures. Silicone boasts a wide temperature range of -150 to 480° F, making it a go-to choice for applications dealing with extreme heat and cold.
Nitrile's range caps out at -40 to 250 degrees, which is still good for applications with less strict heat resistance requirements. In addition, both materials have good thermal stability and age well when used within the right temperature ranges.
Resistance to oil and other substances
Some applications will expose your parts to brake fluid, vegetable oil, and other substances that can lead to decreased performance or even part failure. The good news is that nitrile was made to deal with these types of issues.
Nitrile is extremely resilient when interacting with oils, petroleum-based products, and other difficult substances. It also boasts excellent chemical resistance. Silicone doesn't perform nearly as well in the same environments, with poor resistance to oils and solvents.
Weathering
If your parts are going to be exposed to the outdoors, silicone is likely a better choice depending on the application. Silicone boasts excellent resistance to weathering, both in terms of sunlight exposure and general aging. Silicone also forms tight seals to repel water, making it useful for parts that need to ward off rain.
Nitrile is not nearly as suited to deal with direct exposure to the outdoors. While Buna-N is resistant to water, it won't hold up to UV exposure and weathering. Instead, it's best suited to applications that will shield it from these elements, such as under the hood of a car or other similar applications.
Physical durability
Nitrile is one of a few synthetic rubbers that can take a beating. Butadiene is built to withstand regular contact to resistant scratching and scuffs that would wear down the part. Nitrile is also resistant to tearing, helping seals and tubing stay leak free.
While nitrile enjoys ample tear and abrasion resistance, silicone does not. Silicone parts are not made to withstand notable contact that would result in scratches, scuffs, and tears. While the material can handle occasional physical contact, it shouldn't be used in applications where physical durability is a necessity.
Tensile strength
While nitrile and silicone are both good options in terms of compression set, one material can handle more stress before it begins to change shape. Nitrile has a tensile strength of up to 3,000 PSI, twice as much as silicone. Silicone does edge out nitrile in elongation with a max of 700% to 600%, but nitrile is a better option overall if high tensile strength is required.
Invest in Quality Nitrile Rubber, Silicone, and Other Parts
No matter what part you need, it's important to use a material that works for your performance needs and budget. Nitrile and silicone are two great options, but there are countless rubber and plastic formulations to choose from. That's why businesses turn to Timco when they need custom-made rubber and plastic
Timco works closely with business to figure out the best, most cost-effective part solution for their applications. Give us a call at 800-969-6242 or contact us online to talk to one of our experts about the parts you need.