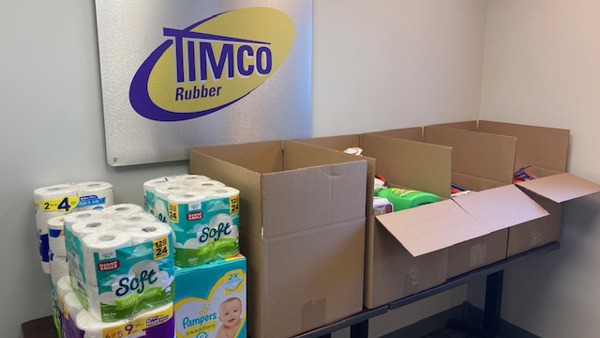 As a company that is committed to community service, Timco Rubber is pleased to announce a company donation of perishable and nonperishable goods to the Berea Community Outreach Food Pantry.
On Friday, Nov. 20, representatives from Timco delivered several cartons of food items and other household goods for those in need during this holiday season. The Berea Community Outreach Food Pantry was in need of assistance collecting food items to support Berea residents in need, and Timco Rubber stepped up to help by collecting necessary items so that people in need could have enough food and supplies to support them and their families.
"Our employees collected the items during our food drive during the week of Nov. 16 and WOW did they step up," said Timco Chief Executive Officer Joe Hoffman. "Helping the community where we work is a high priority to our company and to our employees. We are grateful to be able to lend our helping hands to our neighbors in need."
Timco's commitment to community service and sustainability is a significant part of its corporate culture. By supporting organizations like the Berea Community Outreach Food Pantry, this commitment will continue to be highlighted and encouraged throughout the coming year and beyond.
Learn more about Timco's community outreach endeavors today.