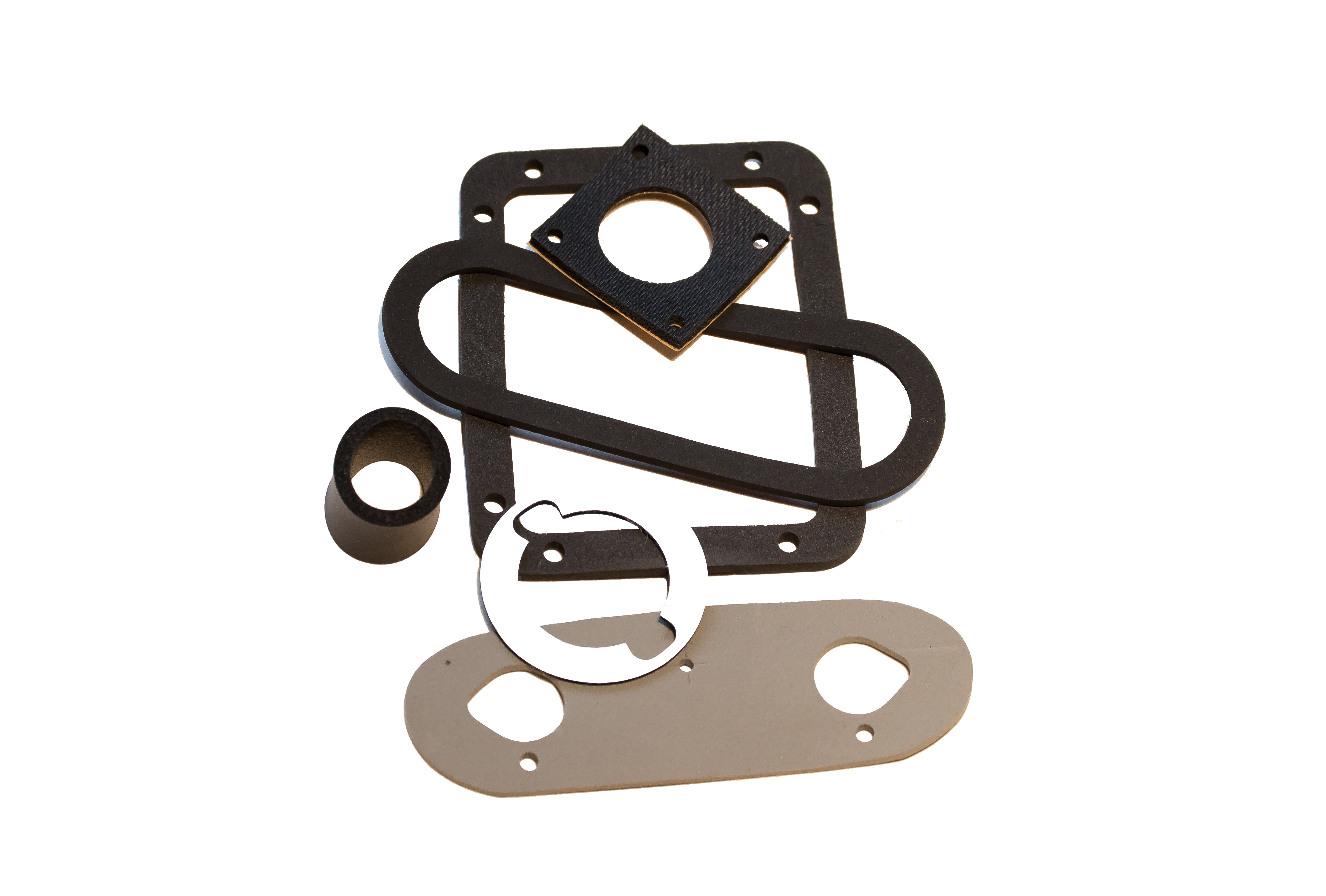 Gaskets play a critical role in a wide range of industries and applications. Unfortunately, there is no single solution to address every sealing need.
A good gasket should be made to last, but unique environments and performance requirements can impact which material is best suited for your application. That's why it's important to break down your available gasket material options so that you can invest in the right parts.
Key Performance Criteria for the Right Rubber Gasket Material
Before you can identify the best rubber gasket material, you need to consider the performance needs of your parts. The exact requirements can depend on the nature of your part, environmental factors, and other key elements. A few main considerations include:
Compression set – How much does your gasket material need to bounce back to its original shape after being compressed? Gaskets in high-use applications like access doors will need added resilience to maintain sealing capabilities.
Heat resistance – Will your gasket be near a heat source and require some degree of temperature resistance? Gaskets for burner boxes and other high-temperature environments will need different materials, while gaskets exposed to sunlight may need to withstand temperatures around 140 degrees Fahrenheit.
Durability – Are there any factors that will impact the durability of your gasket and make them fail prematurely? Factors such as exposure to sunlight, ozone, oil, and other issues will break down certain materials over time.
Tight tolerances – Can the material be precision-made to meet the exact sealing needs of an application, whether it's a die cut rubber sheet or a dual durometer extrusion? The material needs to be reliable enough to meet the tight tolerances of highly-engineered gaskets.
There are also a few other factors that impact gasket material selection that extend beyond part performance. One major concern is whether or not certain materials are readily available for production. Even if you identify which material is best, it won't help you much if the leads times are too long to accommodate production.
The overall value of the material is also a key consideration. Certain parts are will cost more than others, so you'll want to balance budget with performance requirements to determine the most cost-effective solution for your gaskets.
Different Material Options for Gaskets
Once you identify the specific needs of your gaskets, it's time to weigh your different material options. There are a variety of gasket materials available and each have their own advantages.
EPDM sponge
If you want an extremely versatile, cost-effective gasket material, EPDM sponge is a common choice. EPDM sponge is primarily used for gaskets because of its ozone and UV resistance. These capabilities make it an excellent option for any gasket used in outdoor applications. In addition, EPDM sponge is also lightweight, compressible, and easy to die cut.
Poron®
Poron, a special industrial polyurethane manufactured by Rogers Corporation, is a similar material to EPDM. Poron is more expensive than EPDM, but has a better compression set. This additional ability to bounce back is an attractive option for any gaskets in high-use situations.
ManniGlas and FiberFrax
Both ManniGlas and FiberFrax are good solutions for high-temperature applications. These fiber materials are made to withstand temperatures of more than 1,000 degrees Fahrenheit. FiberFrax can offer an even greater temperature range, offering excellent resistance up to 2,450 degrees with special additives.
Silicone
Silicone rubber is another solution for higher temperatures that don't quite call for ManniGlas or FiberFrax. Silicone boasts a high-temperature usage of up to 480 degrees, along with good compression set and rebounding characteristics.
Rigid and flexible PVC
While many gaskets are die cut, rigid and flexible PVC is an excellent material for extruded gaskets. PVC is strong, lightweight, and durable and can be co-extruded into dual durometer parts that slide into place for door panels and other sealing needs.
Invest in the Right Custom Gasket Material for Your Parts
When you need your gaskets to perform, the perfect material is essential. Of course, it's not always easy to identify which option is the right choice for your applications. That's why Timco works closely with companies to identify and supply a custom rubber gasket solution for your business.
At Timco, our experts conduct a thorough examination to nail down every detail that will impact your gaskets. This process will help you uncover the best, most-cost effective gasket material for to address both your performance needs and budget. In addition, our network of suppliers allow us to have gasket materials available for when you need them so that you aren't dealing with lengthy lead times or managing supplier relationships.
Do you need quality, cost-effective gaskets for your business? Give us a call at 800-969-6242 or contact us online to get a quote for your project today.