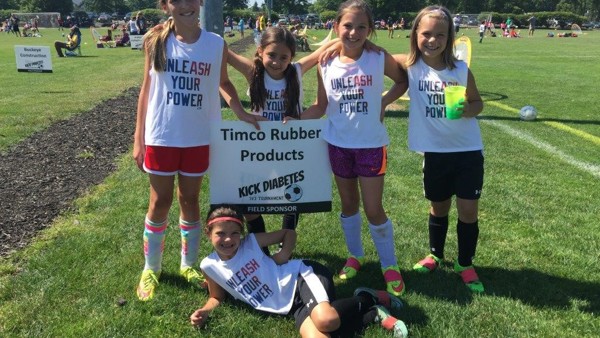 Kick Diabetes raises money for JDRF
The Strongsville, Ohio community always gives back when presented with a cause near and dear to its heart. That giving spirit came through loud (as in shouts of support) and clear (as in blue skies) during the June 25 Kick Diabetes 3 vs. 3 soccer tournament. Timco Rubber was proud to support such a worthy cause through our sponsorship of one of the playing fields.
The tournament, which came together in nine short weeks, was the brainchild of J.R. Muth, a vocal teacher in the Strongsville School District and assistant coach for the high school girls team. His 9-year-old daughter, Alexa, was diagnosed with type 1 diabetes at the age of 5. Grace Paczko,(pictured below left), daughter of Timco's own Stephanie Paczko, is close friends with Alexa. When asked to participate in this great event, there was no hesitation is saying yes! Every penny raised goes directly to diabetes research.