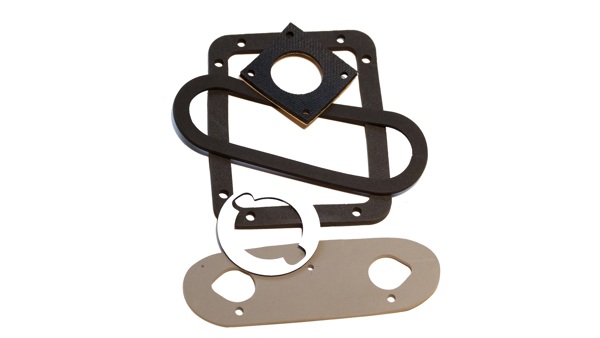 A good part can go a long way toward helping you streamline your production process a lot simpler. Quality die cut parts play an important role in the success of applications in numerous markets. While the ongoing performance of die cut gaskets, seals, and other parts is crucial, it may sell their potential benefits short.
With a little planning, your die cut parts can help your business save time and money by streamlining your supply chain. By changing the design of your die cut parts, you can eliminate certain inefficiencies and improve your internal processes, all while still enjoying the benefits of that part's original purpose in an application. Here's how smart die cut design can add extra value to your operation.
Custom Part Presentation Can Make Assembly More Efficient
There's more than one way to present a part. While these parts can be presented in numerous ways, it's important to identify the best presentation for a specific assembly process. For example, a company may use die cut foam rubber pieces with a PSA (pressure sensitive adhesive) to act as a vibration and noise dampener inside an application. The company has someone manually take individually cut pieces from a box and place them in the proper spots, but the pieces get jumbled up and stuck together.
Through part presentation, you could die cut the pieces so that they're on an organized roll. This will prevent the pieces from sticking together. The die cutter could also add an extended portion of the release liner called a pull tab to make it easier to remove. Die cutters can additionally kiss cut your parts so that only the material is cut and not the original substrate. This way your parts can be left on the original roll if that helps your assembly process. All these part presentation options can improve the speed and ease of assembly, which means you get finished products faster and with less labor.
Part Delivery Presentation Can Help You Automate Processes
In addition to simplifying your assembly process, a good part presentation may be able to help you eliminate entire parts of that process altogether. With some planning, we may be able to design a roll of die cut pieces that can be fed into an applicator. This improvement can help you cut down on the amount of labor required for assembly and may be able to speed up the process overall, all thanks to a change in your die cut parts.
Tabs and Other Features Aid with Kitting and Assemblies
Another way that the presentation of die cut parts can help streamline the assembly process is through part kitting. These kits already help prepare your parts ahead of time, and features like pull tabs and different liners will make it easier for manual laborers to piece everything together, whether it's in your facility or on location. As a result, your workers can finish tasks faster, which makes for a more efficient process.
Get the Right Die Cut Parts for Your Applications
Good die cut parts can provide plenty of value, but it's important that you work with a supplier than can work with you to design the perfect part for your internal process and application. Our experts can work with you to balance material, design, and budgetary needs to find the right solution for your business.
Ready to invest in the right rubber and plastic parts for your project? Give us a call at 800-969-6242 or contact us online today to get a quote for your product needs.