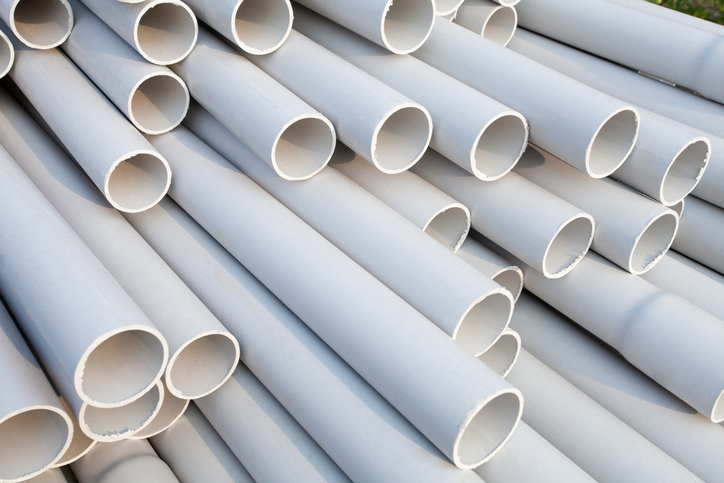 There are numerous plastic and rubber materials out there that you can use to manufacture your parts. For many businesses, polyvinyl chloride (PVC) gives them the perfect combination of flexibility and performance for long-term success.
PVC is a popular thermoplastic material used in a variety of industries. This particular plastic has a long history of success thanks to several benefits. Want to know more about PVC and if it's right for your parts? Let's break down what PVD is made of and how it can be the right material for your business.
How is PVC Made?
While PVC is now a popular material for a variety of applications, its initial discovery was a bit of an accident. German chemist Eugen Baumann first synthesized PVC after numerous experiments. At one point, Baumann bottled some vinyl chloride and left it on a shelf. Weeks later, that vinyl chloride had turned into a white solid that would eventually turn into the PVC we know today.
These days PVC has a less accident-based production process. The manufacturing process starts by extracting resources from salt and hydrocarbon to produce both chlorine and ethylene. When combined, chlorine and ethylene turn into a vinyl chloride monomer that is polymerized into PVC. From there, PVC can be blended with other formulas to create various formulations based on the desired physical properties of your PVC products.
The Advantages of PVC
There are plenty of reasons why polyvinyl chloride has become a popular option for a wide range of industries. These are just a few of the reasons why businesses choose this particular plastic for their parts.
Both rigid and flexible forms
One of the best advantages of polyvinyl chloride is that it can be formulated to be either rigid or flexible. It's easy to process and blend this plastic material, which means you can manufacture parts into a variety of shapes and designs. This versatility gives businesses a lot of flexibility to manufacture PVC into a variety of parts without sacrificing performance.
Lightweight
For as durable as polyvinyl chloride is, it is also an extremely light material. This particular benefit is a major advantage for any business interested in weight reduction, such as for building materials in the construction industry or for parts found in large applications.
Resistances
Polyvinyl chloride is a very durable material that can withstand several different environmental challenges. That durability includes the following resistances:
UV resistance – Excellent
Ozone resistance – Excellent
Corrosion resistance – Excellent
Flame resistance – Very good
Chemical resistance – Very good
Dilute acids and alkali resistance – Very good
Aliphatic hydrocarbon resistance – Very good
Oil and grease resistance – Good
Alcohol resistance – Good
Electrical insulation
Like some other plastics and rubbers, PVC does not conduct electricity. Both rigid and flexible forms of this plastic offer excellent electrical insulation properties, making it an ideal option for electrical wires and any other applications where electricity is a potential danger.
Additive compatibility
Polyvinyl chloride is easily customizable compared to many other plastic and rubber materials. Since PVC is very compatible with many additives, manufacturers can accommodate a variety of performance or design specifications. Those customizations include making parts clear or in different colors.
Cost-effective
For all its benefits, polyvinyl chloride is still a cost-effective solution for parts. The combination of PVC being easy to process and incredible durability make it not only a low-maintenance material, but also one that is built to last for a long time.
When Shouldn't I Use PVC?
While there are many reasons why businesses would choose to use polyvinyl chloride, there are some situations where this plastic isn't a great fit for your needs.
Heat is a potential challenge for PVC plastic parts. Applications that require parts with a higher heat stability may be better suited with a different compound, although there are some additives to combat this issue. In addition, PVC's operating temperature range runs from 5 to 140 degrees Fahrenheit. As such, you'll likely need a difference plastic or rubber material if your applicating environment will face more extreme temperatures.
What is PVC Used For?
Polyvinyl chloride can be used to manufacture parts for industries ranging from the medical industry to tier 2 automotive suppliers. The sheer versatility allows companies to get very creative with this plastic. Whether you need standard components or custom solutions, common parts made with PVC include:
Rigid PVC pipe
Flexible PVC seals
Tubing
Medical equipment
Moldings
Wire and cable insulation
Seat coverings
Interior door panels and pockets
Window and door frames
Invest in the Thermoplastic Elastomers (TPEs) Your Applications Need
Polyvinyl chloride is an excellent material for many parts. Of course, there's a lot more to plastic part supplies than just narrowing down your ideal material.
Timco Rubber works closely with businesses to help them identify the best, most cost-effective part solutions for their exact applications. Performance requirements, operating environment, and budget all pose distinct challenges for finding the right part. Our experts analyze your specific needs to design your parts from scratch or find an existing solution that meets or exceeds your requirements.
Ready to invest in the perfect plastic or rubber parts for your business? Give us a call at 800-969-6242 or contact us online to talk to one of our experts about the parts you need.