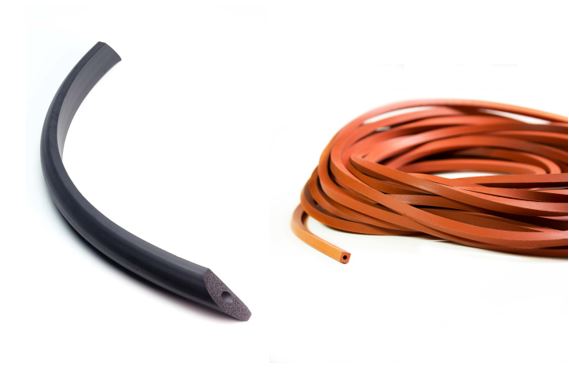 Any time when you need seals, grommets, or any other rubber parts, it's crucial that you choose the right material to manufacture these parts. The specific material has a direct impact on durability and performance. As you may expect, choosing the wrong material is a quick path to ineffective parts or outright failure.
The tricky part about material selection is that there are so many materials available on the market. It can be challenging to pick the right compound for your specific needs and requirements, especially when many of these materials share similar characteristics.
Two common materials are silicone and neoprene. Both of these materials are used for a variety of applications in the automotive, electrical, and HVAC industries, among many others. While both neoprene and silicone can be excellent options for a variety of use cases, there are some significant differences between them.
With that in mind, let's look at these differences in a bit more detail and identify reasons why you would choose either neoprene or silicone for your specific part.
The Differences Between Neoprene Rubber and Silicone Rubber
While there are instances where both silicone and neoprene will be appropriate for a particular application, there are some distinct applications where one would be a better choice over the other. In these applications, there are several factors you'll need to take into account to decide which better meets your needs.
These factors include:
Resistance
Temperature requirements
Durability
Manufacturing process
Resistance
Environmental factors play a pivotal role in material selection. Considering that neoprene was initially conceived as an oil-resistant substitute for rubber, it's definitely a preferred choice for parts dealing with exposure to oil. Neoprene is generally chemically resistant, making it a better option to hold up against solvents and greases, as well as methyl and ethyl alcohols, mineral acids, and some salt solutions.
In contrast, silicone doesn't perform well when it comes to resistance to oils, solvents, and other factors. Moreover, silicone can swell and fail when exposed to oils or other petroleum products. Some silicone variants that are more oil resistant, but Neoprene is definitely a preferred option.
The one resistance where silicone is on par with neoprene involves weathering and aging. Both materials deal well with sunlight, making them adequate options for some outdoor applications.
Temperature requirements
Although silicone doesn't perform well with chemical resistance, it really shines when it comes to withstanding extreme temperatures. This resistance applies to both hot and cold environments, as silicone has a low temperature usage range of -60° to -150° F and can withstand temperatures up to 480° F. Some silicone compounds can withstand long-term, continuous use at temperatures as high as 392°F.
In addition to its high temperature resistance, silicone is also flame-resistant. As a result, silicone is a popular material for use in everything from home appliances to aerospace and automotive applications. It's important to remember, however, that silicone becomes more rigid at higher temperatures.
Conversely, neoprene doesn't offer the same temperature resistance as silicone. This material has a low temperature usage range of 10° to -50 F° and can withstand temperatures of up to up to 250 F°, making it solid, but not quite as effective as silicone. Like silicone, neoprene is also fire-resistant. Neoprene also becomes stiffer as the temperature drops.
Durability and toughness
When it comes to durability and toughness, both silicone and neoprene offer excellent tensile strength and elongation specifications. Here, neoprene has a tensile strength of 500 to 3000 P.S.I. and a maximum elongation of 600%. In turn, silicone has a tensile strength of between 200 and 1500 P.S.I. and a maximum elongation of 700%.
Neoprene performs exceptionally well when it comes to compression and rebound. Silicone, while not as good as neoprene, also performs fairly well. The difference between silicone and neoprene in respect of durability and toughness, however, is their tear and abrasion resistance.
Neoprene offers exceptional tear resistance and abrasion resistance. These factors combine with high tensile strength and elongation to give neoprene outstanding resistance to damage caused by twisting and flexing. On the other hand, silicone features poor tear strength and abrasion resistance. These qualities makes silicone less suitable for applications where tearing or rough contact are likely.
Manufacturing process
One of the main considerations when choosing the right material for a specific application is the manufacturing process. Both neoprene and silicone can be die cut, injection molded, extruded, and made in a variety of ways to best suit specific design needs.
Another advantage of both materials is that they are also available in other densities. For example, manufacturers can create a lightweight, sponge form that makes both materials ideal for automotive applications and other designs that need to reduce vibration and noise.
Find the Best Material for Your Specific Application
Even with the above factors, the decision of neoprene rubber vs. silicone rubber can be a complex question to answer. The right choice ultimately comes down to your specific part's specifications. You also need to factor the various costs to find the most effective solution at the right price.
Fortunately, Timco Rubber is also here to help. As a premium rubber parts supplier, we can provide you with the best, most cost-effective custom parts for your needs. Our experts work directly with you to identify the perfect materials and manufacturing process your project requires. Give us a call today at 800-969-6242 or contact us online to discuss your part requirements.