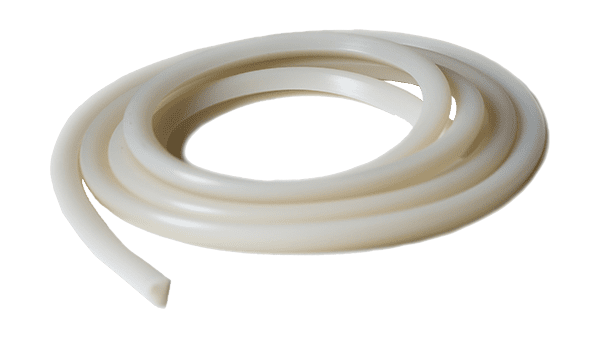 Choosing the right material plays a significant role in how well your parts perform. The problem is that there are numerous rubber and plastic compounds available, but only a few may be viable options for your applications.
TPE, also known as thermoplastic elastomers, are one such option for manufacturing a variety of parts. But what is TPE, and when is it the right fit for your needs? Dig into this article to figure out if this particular compound is right for your applications.
How are Thermoplastic Elastomers (TPE) Made?
Thermoplastic materials date back nearly 100 years when Akron, Ohio-based scientist Waldo Lonsbury Semon invented plasticized polyvinyl chloride in 1926. Interest in these types of materials quickly grew after PVC, resulting in the development of different blends.
The first thermoplastic elastomers were commercially introduced in the 1950s. This particular material helped bridge the gap between conventional elastomers and PVC and quickly grew in popularity in a wide range of industries.
Thermoplastic elastomers can come in a variety of TPE compounds, including TPV (Thermoplastic Vulcanisate), TPU (Thermoplastic Polyurethane), and TPR (Thermoplastic Rubber). These compounds are made my combining a hard material and soft material to yield ideal properties depending on your application. The ideal polymer blend can then be extruded, injection molded, or manufactured in another way to exhibit advantages of both rubber and plastic materials.
The Advantages of Thermoplastic Elastomers
There are several reasons why businesses choose to manufacture their parts with thermoplastic elastomers. These are a few of the top advantages of choosing TPE for your products.
Flexibility and elastic properties
TPE is an incredibly flexible material. While other compounds, like thermoset rubbers, are permanently hardened after being made, thermoplastics can be repeatedly stretched to twice its initial length. There are also rigid thermoplastics available for applications that require a harder material.
In addition to its high elasticity, TPE also benefits from a broad range of durometers, compression sets, and abrasion resistance. These physical properties give TPE an incredible amount of design flexibility, whether you want to maintain its original shape or not.
Heat, aging, and chemical resistance
Rubber and plastic materials are only effective for as long as they can survive. Thankfully, thermoplastic elastomers are a fairly durable material when it comes to different types of exposure.
TPE is is moderately resistant to high and low temperatures ranging from -30 to 250 degrees Fahrenheit and offers excellent thermal properties. Furthermore, these elastomers are largely resistant to chemicals and solvents. Finally, TPE are excellent at resistant different environmental factors, which saves it from aging quickly and makes it a trustworthy option for outdoor applications.
Recyclability
One of the most intriguing properties of TPE is that it is recyclable and eco-friendly. Through processes such as molding and extruding, the material can be easily recycled and used again in different products. Meanwhile, the majority of other rubber and plastic are not recyclable. In addition, during its production, TPE consumes far less energy than other similar materials, reducing the impact on its environmental footprint.
Color matching
Another primary benefit of TPE is that you can color the material using the most common dyes. Several other polymers and materials are not colorable, making thermoplastic elastomers stand out in more than one way. Instead, its easy to use additives to produce TPE parts in different colors and finishes for branding, color coding, and any other purpose.
Low toxic properties
TPE naturally exhibits low toxic properties. These features make it a natural fit for any applications that come in touch with food, medical environments, and other scenarios that may require material compliance with certain regulations.
Are There Situations Where TPE isn't a Good Fit?
Like any other material, TPE has its disadvantages. For instance, TPE might not be a good match for applications exposed to extreme temperatures or constant oil exposure. Applications that require an extremely hard or dense material may be better suited with another compound.
Creep is another potential issue. Under the influence of extreme stress and pressure, the material starts to deform and move, making it less suitable for parts that require a higher compression set.
What is TPE Used For?
Considering some excellent properties of TPE, the material is used to create many different products. This versatile plastic offers many different solutions, such as coextrusions and sealing products. TPE is also soft to the touch, making it a popular material for consumer goods. You can also expect to see TPE used in the following industries:
Invest in the Thermoplastic Elastomers (TPEs) Your Applications Need
From condensate drain tubing to simple seals, TPE is a well-rounded material used for a wide range of applications. However, there's more to investing in quality parts that just identifying the right material.
Whether you need a TPE part or don't know which material is best, Timco Rubber can work with you to design and provide your business with the best, most cost-effective solution for your applications. We work directly with you to analyze your exact performance requirements and environmental challenges to determine to build your parts from scratch. Give us a call at 800-969-6242 or contact us online to talk to one of our experts about the parts you need.