 Custom Silicone Seals for Your Business
Timco Rubber is a trusted supplier of high-quality silicone seals. We partner with businesses to provide them with custom seals designed around their performance needs and budget. Reach out to our experts today to invest in the seals you need for your applications.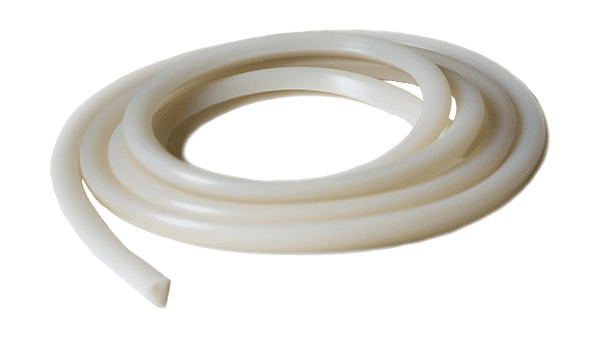 Silicone Seals Customized for High-Temperature Applications
When you need seals that can perform in extreme temperatures, silicone is a great option. High-grade silicone is made to withstand high and low temperatures far better than most rubber and plastic compounds and can endure long-term continuous use at high and low temperatures. Key silicone performance requirements include:
Temperature range of -150 to 480° F (-100 to 250° C).
Excellent resistance to sunlight, weathering, and aging.
Flexibility in colder temperatures and stiffens up at higher temperatures.
Good compression set, resilience, and rebound characteristics.
Tensile strength and elongation of up to 1,500 PSI and 700%
Good adhesion to metal.
Excellent electrical insulation, even when immersed in water.
Can become flame retardant with additives.
Of course, a silicone door seal is going to pose different challenges than a silicone window seal and other part needs. Timco has provided custom part solutions since 1956, and we can work closely with your business to identify all the special characteristics and design needs for your parts. We partner with manufacturers around the globe to ensure that your part is made specifically for your application. That process includes providing you with the following options to address your exact design needs:
Multiple manufacturing processes (extrusion, die cut, molded seals, etc.).
Coextruded seals with other plastic or rubber materials.
Precision-made parts with tight tolerances for strict sealing needs and highly-engineered parts.
Custom and standard diameters, groove depths, and profile shapes (D, E, P, etc.).
A wide range of widths and thicknesses.
Cut-to-length seals.
Parting lines to minimize leak paths.
Part engravings for branding or different textures.
Silicone Rubber Seals Custom-Manufactured for Multiple Markets
From automotive drive shafts to food processing units, there are plenty of applications in need of quality silicone sealing solutions. Timco works with a wide variety of industries to supply them with the silicone rubber gaskets and other seals necessary for success. We have decades of experience supplying silicone seals to the following markets:
Timco: More Than Just A Silicone Seal Supplier
A good supplier can offer your business more value than just providing parts. Timco was founded on a simple principle that businesses deserved both high-quality products and personal, reliable service. That belief has helped drive our company to become a single-source solution that does more than just identify custom silicone seals for your applications.
We are dedicated to providing personalized service and making your life easier. That belief is why we offer several value-added services to save your business time, money, and headaches. These added services include:
Subassembly of rubber parts
Kanban replenishment
Kit assembly
Flexible control methods
In-house stocking program and on-time delivery
At Timco, our goal is to be a true partner with everyone we work with. Over the decades, we've developed an extensive network of relationships with material suppliers and seal manufacturers. These partnerships allows us to invest in the best, most cost-effective silicone rubber seals for our customers thanks to the following benefits.
Part accessibility – We maintain greater access to the materials you need than other seal supplier across the country. When your need silicone for your seals, we can identify the best source available.
The lowest possible part cost – We work with suppliers and manufacturers around the globe to help you balance material costs, manufacturing fees, and shipping. In turn, you pay less for the seals you need to succeed.
Need custom silicone seals for your business?
When you need silicone window seals, door seals, or any other parts, we can help. Give us a call at 1-888-754-5136 or complete our online form to request a quote today.